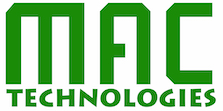 SYSTEM SOLUTIONS
Simple Solutions for Complex Connections
We combine Fiscal Responsibility with Corporate Social Responsibility
We hired MAC Technology Solutions to perform a small facelift for us and was very impressed with the results. The team at MAC went a step further than most and actually revamped the entire api back-end for us when We merely asked for a front-end!
Our need for perfect "end to end" solutions was fulfilled at MAC, we never felt the need to involve any other team of engineers. The guys at MAC understand the requirements and produce solutions that fill all the gaps in project development.
We have worked with MAC Technology Solutions for a couple of years now. There was no need to engage anyone else. MAC is the best at what they do.
The team at MAC helped us reduce our operations cost by 50%. It was a massive engineering effort, moving our customer base from a php based solutions to a microservices based solution with zero down time. The migration was not only seamless, but the UX experience was a delight for our customers
MAC Tech Solutions has worked many hours with us on our initial project. They are skilled in their technical acumen and concise in their delivery to our team. MAC will continue to work with us on our projects and are a welcomed contributor to the team.